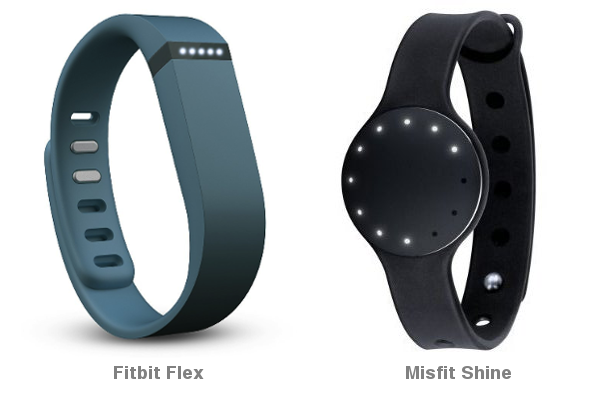 Fitbit Flex Wireless Activity + Sleep Wristband, Black

Misfit Shine - Activity and Sleep Monitor
Background
IoT is taking over Silicon Valley. Apple and a dozen wearable startups have made it clear that wearable market is going to be the first battlefield. I finally decided that I would give fitness tracking a try. I was particularly interested in the ability to track sleep. I suffer from frequent insomnia and I wanted to validate the hypothesis that active lifestyle can alleviate my sleepless pains.
The number of fitness trackers available on the market today is beyond comprehension. I painstakingly read through numerous reviews to arrive at these two devices. I wanted to find a device that is less than US$100 and able to effectively track sleep base on motion. I wore these two flagship devices for one week before giving my final judgment. Let's take a look at my evaluations:
Design
Fitbit Flex
Simple and Un-noticing
The Flex does not try to stand out from the crowd or try to make a fashion statement. The design is nothing more than a plastic band with a thin notification band. The plus side is that there are a ton of colors choices. If you want to fit your wardrobe, you can easily change band color. It is very light and comfortable. I had no trouble going to sleep with this band.
Misfit Shine
Elegant and Versatile
The Shine truly shines in its design. The circular LED lights up beautifully. You can wear the device as a wristband, necklace, or stick onto any part of your clothing. The versatility of ways you can wear this device is a huge plus for those who do not want to occupy wrist space. You can tell the designers did some serious user research before shipping.
Conclusion - The Shine is more beautifully designed and more versatile. The Flex lacks character.
Hardware
Fitbit Flex
Responsive
Fitbit has invested very heavily into the fitness hardware to power its line of tracking products. The device responds very accuracy to motion and taps. Additionally, I've found that it can differentiate between a finger tap and a accidental knock-against-wall.
Misfit Shine
Buggy
I was quite disappointed that the Shine did not respond very well to taps. I have to tap the device very precisely in order for it to respond to my intends. However, ordinary step tracking and sleep motion tracking works mostly fine.
Conclusion - The Flex is more responsive to interactions, the Shine is somewhat buggy.
Software
Fitbit Flex
Informative and Smooth - No Aggregate View
Pro: The Fitbit software just works! Important daily stats like distance, calories, active minutes are clearly presented in the homepage so you don't need to go digging around. And device sync happens seamlessly.
Con: No summary view/correlation view. I guess you can do this manually by looking at the stats each day. But why not do it in software!
Misfit Shine
Confusing and Buggy - Great Summary Presentation
Pro: the software shows a weekly view of your activity and hours asleep! This helps you see correlations between activity and sleep - THE reason I got these devices in the first place!
Con: The Misfit software has a strange storyline based interface that records light-activity, moderate-activity, light-activity, sleep, etc. It is hard to interpret these events, and the software gives you a "point system" that displays a daily score. I don't really understand how the scores are calculated. Worst part is that the Android App occasionally crashes during syncing. Boo.
Conclusion - This is a hard one. Neither software is perfect. But software bugs is simply unacceptable. So Shine loses!
Awesome Features
Fitbit Flex

Silent alarm Clock - I would pay money just for this feature so my girlfriend and I don't keep waking each other up in the mornings.
Misfit Shine

Battery lasts forever - 5 months to be precise
Use as clock - If you are occupying my wrist, you better tell me the time! The time display is really cool too.
Auto sleep - This feature is not very accurate, but worth mention
Pain Points
Fitbit Flex and Misfit Shine

Untrained active tracking - I noticed that the devices mistakenly interprets sitting on SF MUNI as 'active time'
Weak sleep tracking - Simply inaccurate and full of question marks. The restful sleep time only vaguely resembles the amount of time I spend on the bed. (See image below).
Bias towards cardio - I go to the gym around 4 times a week, and only do cardio for 1 day. The tracking software does not really give me enough credit for the lift days
Final Verdict
I was not particularly impressed with either device. I see them as tech gadgets that do not deliver the value that they claim - to promote healthy lifestyle through accurate data tracking. The physical tracking has not been refined. The pain points that I pointed out are the core offering of these devices, yet they have not quite nailed them yet.
The IoT companies in SV have certainly made headways towards effective wearable devices. The Fitbit Flex and Misfit Shine are both inexpensive devices that can be great gadgets for the tech savvy, but I do not see them changing lifestyles. I plan to move up to the $100-$200 wearable devices for my next set of reviews in my quest to find a perfect fitness tracker!